Kentucky Fried Chicken is a big hit in Japan during the Christmas season, with lines forming around the corner and huge sales. Her Japanese YouTuber Yoko Ishii told her Fox News how the fast food chain has become a phenomenon of the holiday season in the last 50 years.
According to the company's website, KFC Japan posted its highest annual sales leading up to Christmas, with December 24 being the chain's "busiest day of the year, 10 times busier than KFC Japan's annual average." It has been with. Ishii said both she and her husband separately witnessed the big procession in her hometown of Fukuoka.
Find out how the KFC Christmas tradition in Japan started below.
See more FOX News digital originals
"I was on my way home and saw KFC in a big store. [train] Ishii told Fox News:
"I noticed they were lining up in Kentucky for Christmas," she said.
The US-based KFC restaurant chain began operations in Japan in 1970, launching its first Christmas-themed marketing campaign in Japan four years later.
Ishii said he was familiar with the Kentucky for Christmas slogan, having grown up hearing it advertised on television. According to KFC's website, the campaign's origins are traced to an unidentified foreigner who visited his KFC restaurant in Tokyo on Christmas in the early 1970s.
According to KFC's account, "We can't get turkey in Japan, so we have no choice but to celebrate Christmas with Kentucky Fried Chicken." We used that as an inspiration to launch that tagline, Kentucky for Christmas."
Christmas dinner: stuffed turkey thigh, roast potatoes, etc.
KFC Japan's first Christmas dinner consisted of a bucket of fried chicken (called "taru" in Japan) and a bottle of wine, according to KFC's website, and was suggested to be enjoyed at a holiday party.
Since then, the annual Christmas meal promotion has been expanded. Many Japanese place their Christmas orders at his KFC months in advance. On real holidays, rows of restaurants often flood the city streets.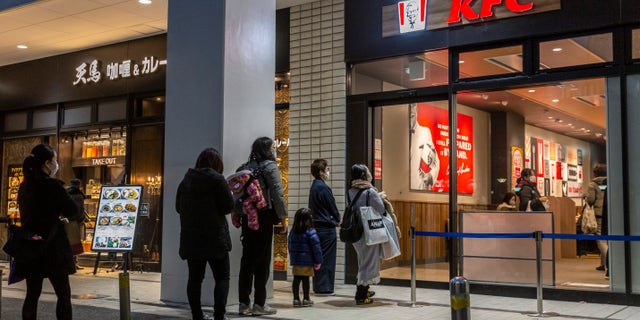 According to SR, KFC Japan made about ¥7.1 billion (about $53 million in today's U.S. dollars) in 2019.
CLICK HERE TO GET THE FOX NEWS APP
Many Japanese have embraced the commercial aspect of Christmas, even though only about 1% of the population is Christian. Ishii said the willingness of the Japanese to incorporate foreign festivals into their lives has contributed to the success of Christmas in Kentucky.
"I think we're happy people celebrating everything we do," she told Fox News.
To learn more about how KFC established a lasting Christmas marketing campaign in Japan, click here.